Why you should use Solo Ads to drive traffic to your product.
Udimi Solo Ads are one way to drive traffic to your products or web pages. The biggest benefits of using paid traffic to build your list are that you see results right away. Usually, within a few minutes or at the most of few hours of the time you make your purchase, you will see a noticeable spike in your traffic.
Solo ads are targeted to your audience
What Are Solo Email Ads?
A one-time email blast sent on behalf of another party to their own email list, typically for a fee is known as Solo email ad.
A list that has effectively been constructed by another person, is referred as the "Quick List". This isn't equivalent to buying an email list where you get the email & contact information of individuals.
The individual or the organization that you are paying, owns the "being emailed to" list that is made.
You would only be providing the email copy, that you want to appear in the email, to the sender. Sometimes, the sender may choose to edit your copy or write their own.
Highly reputed solo ad providers can give you a smart idea of the demographics of their list.
Solo ads for affiliate marketing. While other businesses can make use of solo ads, they're most popular among affiliates and information marketers
The Reason Solo Ads Are Popular
Solo ads are one of the leading web-based advertisement media. Several companies that are engaged in marketing products and services use Solo ads to reach their prospective buyers. This is a cost-effective method and it allows users to reach hundreds of individuals in a short period.
One of the main reasons behind the popularity of solo ads is that solo ads are much more economical than other types of print and electronic mediums of advertising.
You don't need your own mailing list
A solo ads seller provides the right kind of list for your target audience. A professional solo ad provider will have a list of hundreds to thousands of subscribers.
This means your promotional message will reach thousand in a short space of time. These subscribers are the people that have willingly opted in for a free newsletter or offer.
They want to receive emails about offers and promotions from the seller.
This makes it more efficient for you, because if you send your promotional message to them then they are more likely to respond to your offer.
Top 5 Benefits of Udimi Solo Ads Marketing for Your Business?
Solo ads marketing provides unlimited benefits to your business. However, I'll discuss the top 5 critical benefits through the article.
Are you starting online marketing with a limited budget?  Then I highly recommend buying solo ads.
Solo Ads is the best way to generate high-quality traffic without the need for any type advertising knowledge.
If you are seeking a quick approach to advertise, consider buying solo ads. It is a fast, affordable and effective way to reach a lot of customers.
1Reach a Big Target Audience
Marketing is a competitive space, and it starts with knowing your customer. The most significant benefit of solo ads marketing is that you can quickly tap into many subscribers or traffic.
Many professionals offer Solo Ads services. However, look for providers who can give you additional traffic via their mailing lists. You can find these Solo Ads Vendors by first checking their solo ads and customer reviews.
While you do need to pay for targeted advertising. Actually, it is well worth the investment. If you are starting out building your email list, you'll find that targeting ads. It is also a very effective way to grow your list.
2Guaranteed Traffic to your Campaign
Each proficient Solo Ad vendor has a specific mailing list. So, sellers will send it to the focused individuals in their inventory when you order solo ads. Sellers also give traffic analytical reports.
As a result, it's apparent that you only pay for specific visitors. When you start PPC or other paid marketing, the generated traffic may not be as high with the same budget.
3Flexible Pricing Options
Solo Ads Marketing is a great way to engage your audience. You can choose from several affordable payment plans using a flexible pricing model. Besides, you always possess the option to pick from either a fixed rate or a performance-based one.
4Very Cost-Effective
One of the most significant benefits of Solo Ads is very efficient and cost-effective. There are zero restrictions on your advertising budget. No matter how big or little the budget you have, you can get started with Solo Ads.
Usually, Solo Ads campaigns cost around $4.50/1000 impressions or $.45c per click. However, the cost varies according to the caliber of the mailing list delivered by the advertisers. Here, you're also able to reach your audience with just one email.
5Rapid Growth With Less Effort
Solo Ads marketing can be a rapid and convenient strategy to reach your target audience. You don't need any technical skills to create your advertisements.
In short, all you have to do is identify the ideal solo ad seller. They will get you rapid growth with less effort. It is also among several massive benefits of Solo Ads marketing.
Solo ads for affiliate marketers.
With solo ads, your affiliate link goes directly to people who are looking for the kinds of products you are promoting. That's because you can buy solo ads from people who have highly specialized lists. These lists can be very long and usually contain buyers who already have shown an interest in or have already purchased products within your niche. That means they are already in the market for what you are selling.
Solo ads are a great way to connect with new customers without having to go through the trouble of capturing that traffic yourself. You can simply pay to benefit from somebody else's hard work. And it's effective in connecting you with motivated buyers.
Follow the steps (listed below) to send out a Solo Ad:
1.Create an attractive and enticing Squeeze Page/ Capture Page
Build landing pages without programming or coding skills!

Choose from our 300 templates or customize them, and put them all over the web.
2.Choose the funnel you would like to promote if you have couple of the always do split testing.
3.Find a vendor with a large list of subscribers congruent to your niche(how to find a vendor I'll mention later)
4.Set up a tracking link, you can use https://goo.gl/ absolutely for free
5.Make sure you have a follow up sequence at least 5 days
6.Pay for the Ad and book a spot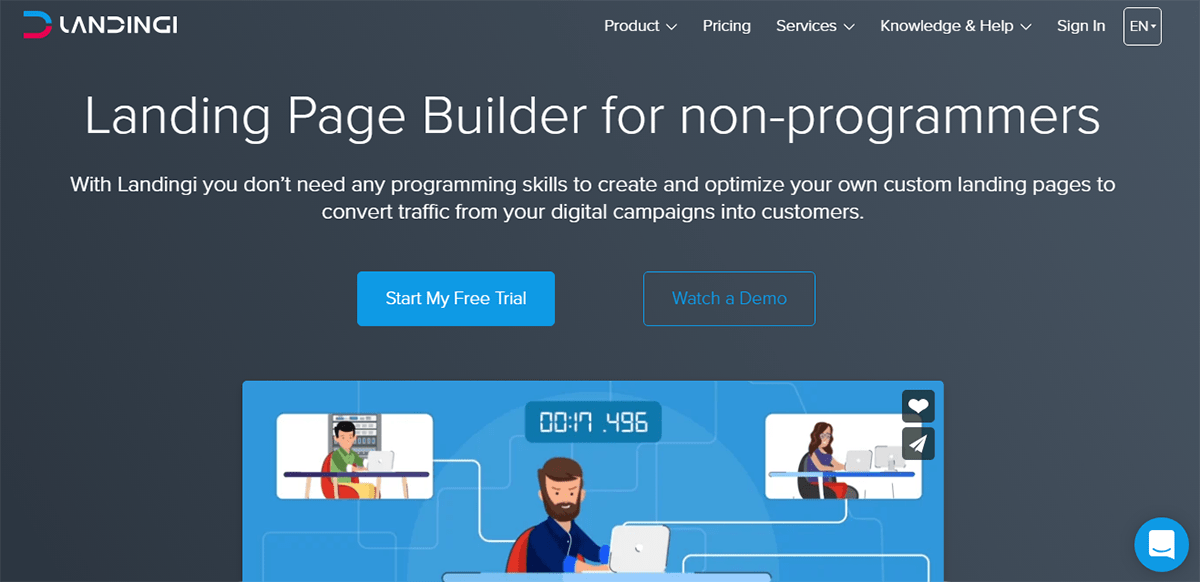 The Money Is In The List.
Yes, Solo Ads will help you make some front end sales. But it's far from being their biggest benefit. Other than generating those sales, solo ads will also help you build a big list of subscribers.
Why this a good thing?
What are the advantages of email marketing?
Benefits of Email Marketing
Creating personalized content.
Collecting feedback and surveys.
Improving sales.
Communicating with your audience.
Generating traffic to your site.
Sending timely campaigns.
Increasing leads.
Reaching the right people at the right time.

Where to purchase Solo Ads
Affiliate marketers looking for fresh solo ads for affiliate marketing on Udimi.com can now access newly added vendors in 2022 in a variety of niches.
Udimi.com is a solo ads agency where members can buy solo ads traffic for a specific niche. This agency provides targeted solo ads traffic for subscribers who are looking to grow their customer base in aparticular niche. Udimi just recently added over 100 new solo ad vendors with fresh email traffic in the home business, cryptocurrency, fitness,and self-improvement niches.
Carefully vetted and tested for those who want to grow their email list fast but do not know how to do PPC marketing or how it works.
Udimi is a place of transparency where subscribers can go to purchase email traffic and have the confidence of knowing where their traffic is coming from without worrying about getting fraudulent clicksor leads.
Udimi's mission is to deliver fast, reliable, and fresh email traffic to those who want to buy solo ads traffic in a chosen niche.
By subscribing to Udimi's advertising platform, individuals can save thousands of dollars in wasted advertising costs by trying to learn PPC marketing,
YouTube marketing, social media marketing, and etc. Once a subscriber signs up, members can choose a solo ad vendor, choose an advertising package that fits their budget, and sit back and let the vendor send fresh email traffic to a member's squeeze page.
Once the email traffic is delivered, the member is able to see real email subscribers flowing into their auto-responder. The tracking feature within Udimi's dashboard shows members geographically where their leads are coming from.
Tracking
It is also important to stay on top of your metrics, particularly after you've begun a solo email.
All of your marketing should  be tracked in the digital marketing world & this includes your solo ads as well. It is very important for you to track the data yourself, although, some solo ad providers will supply you with their own data.
This can easily be done with Google Analytics.
Who solo ads would work best for
Marketers who have a tight of budget. Got a couple of hundred dollars? That's enough to do some basic testing with solo ads.
If you're in a niche where pay-per-click prices are through the roof. In this case, your cost per click from solo ads may be so much less than what you'd get on AdWords or Bing
If you're in a niche that's completely oversaturated with content.
If you're in a niche with intense competition for search engine traffic.
If you're about to launch a product, or if you need traffic sent to a page quickly. You've got no time to write guest posts, build an audience, or do anything that takes more than a few days to see results.
Conclusion
Benefits of solo ads
1. A large, targeted audience
Good solo ad providers will have a list of hundreds, if not thousands of subscribers
2. You don't have to build your own list
You are leveraging off other people's lists.
3. You don't have to submit the ad yourself
By using a mailing ad platform like Udimi, all you need to do is book a spot with an ad provider.
4. It's cost-effective
Paying for a solo ad to be sent out usually costs much less than it would for you to say, place an ad in a magazine.
If you are looking for offers to promote why not consider CPA Marketing